Drumlins Amateur Radio Club
This is the Official website of the Drumlins Amateur Radio Club Ltd 
Sun Jan 19 from 12 noon to 4pm General public invited to Open House at the Wayne County Emergency Management Office.
Wed Feb 19 Club meeting 7pm at Finger Lakes BOCES Conference Center. Wayne County Sheriff Barry Virts is our Special Guest and will present a program on his Department.  Public, including children, are always welcome at our meetings.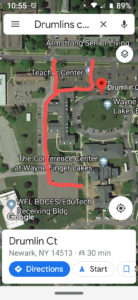 New Club meeting at BOCES, off E. Maple St in Newark, just west of Vienna St.
Check 146.685 starting 2 hours prior to meeting time for any cancelation announcements.. On the hour and half hour. 
Starting with the January 2020 meeting, we will have our monthly club meetings at the Finger Lakes BOCES Conference Center, 131 Drumlin Crt, Newark, NY (Enter from E. Maple St, Conference Center sign drive straight to end of the road, turn left into parking lot).  See map above. 
Interested in joining the Drumlins ARC? Click on the "Join" tab above or come to a meeting. (listed below) 
SPECIAL NOTE:  VE testing is currently not being offered.  Please see note below under Free VE testing.   We apologize for any inconvenience.
Membership Note:
2019 DUES: It is that time of the year again.  Please click here to use PayPal to renew.  You may also pay Walt Dutcher, W2WBD at any meeting.  Thank you.
DRUMLINS ACTIVITY CALENDAR 2019.
Email KD2DNO@GMAIL.COM to add events or make changes
Wed & Thur Oct 30 & 31.  Pumpkin Patrol.  Contact Dave at kb2kby@rochester.rr.com
CHANGE IN MEETING LOCATION:
    Effective with the February 2019 meeting, our monthly meetings are being moved upstairs in the EMO to the big Command Center room.  The county needs to take over several areas to provide temporary relocation of other County services.  This includes the downstairs meeting room. The front doorwill be unlocked just before 7pm and remain unlocked until 8pm.  If you come after 8, you won't be able to get into the meeting.  This is supposed to last for about one year.
Read an interesting article especially if you are interested in learning more about Amateur Radio
https://alertfind.com/amateur-radio-and-emergency-communications/
New Facebook and Twitter Pages:
Just click the blue "F" or bird icon in the upper left corner of this page to be taken to our new Facebook and Twitter pages!  "Like" and "follow" us for notifications of stories and events!!
---
Meetings every Third Wednesday of the Month at the Wayne County EMO/Sheriff's Office
 Second Floor Command Center
 7376 State Hwy 31 #1000, Lyons, NY 14489
Doors open at 7 pm, meeting starts 7:30 pm. EMO front door locks at 8pm. Announcements on 146.685
Board Meeting (business sessions) are held on the Monday of the week preceding the Club meeting (check the Calendar) usually at 6pm with business following dinner, usually every other month. Check the calendar or with any Board member for any changes.  A Board/Business meeting may not be held each month depending on how much Club business needs to be handled.
==============================
VE Testing is on Hold
 We are sorry to announce we are not providing testing currently.  Please contact Squaw Island ARC (www.siarc.us) or Rochester Amateur Radio Association
(Rochester ham.org) sites, or ARRL.org
===========================
---
LOCAL NETS
RACES/ARES NET

Sunday at 8:35 pm (check calendar to verify, not held on holidays) on 146.685, pl 71. Contact David Taylor KB2KBY at kd2kby@rochester.rr.com for information.
DARC NET  146.745 (pl 7 1.9)  Tue 7pm.  Weather and Rag Chew... All are invited, very informal.   KD2DNO@GMAIL.COM
Drumlins ARC is  community service group
Any community group in Wayne County needing communications with an event, such as a parade, walk-a-thon, or bike ride, please contact us for possible help.
Email: drumlinsarc@gmail.com
---
---
2019 Renewals are coming up soon... If you are a Lifetime member there is no need to re-enroll. All others please go to the Members Area and rejoin for next year.  Please be sure to make any changes or corrections.   Contact Lew WE2LEW at  we2lewradio@gmail.com  if you need more information.
If you are paying by Cash or Check, be sure to mention that under "Comments" and get your payment to Walter W2WBD at wdutcher@tkcontrols.com
---
Drumlins Amateur Radio Club (DARC) welcomes all Amateur Radio (Ham) Operators. We serve the Wayne County, New York area and we are the ARES and RACES organization for the area. We work in close conjunction with the Wayne County Emergency Management Office in Lyons, NY and have a radio shack located in the EMO building in Lyons. Our group provides back-up communications for Wayne County EMO and actively participate in drills with the EMO. We work closely with other amateur radio groups in our area, particularly Squaw Island Amateur Radio Club (SIARC) out of Ontario County. Anyone interested in Ham radio activities is welcome to attend our meetings, and hopefully join the club. Drumlins was formed in 1975 and proudly sponsors one of the areas best Hamfest's, usually in April each year. We have set up a. Yaesu Fusion Repeater on 444.750 (PL 110.9) and upgraded the controller on 146.685 and put up a new antenna and new controller on 146.745 in 2015.
A Sunday Night RACES NET is held most Sundays at 8:35 pm on 146.685 (repeater).  Check the Calendar for changes.  NET is not held on most Sundays with a holiday in the week.
We have A Tuesday night Weather /Rag Chew Net at 7p on 146.745
Any questions or comments?  Email us at   drumlinsarc@gmail.com